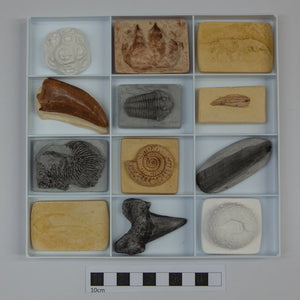 A starter set of replicas to introduce the types of fossils and their ages.
Containing: Fish Diplomystus; Echinoid Phymosoma konigi; Shark tooth Otodus obliquus; Ammonite Echioceras quenstedti; Seed fern Neuopteris scheuchzeri; Crinoid Gissocrinus typus; Dinosaur tooth Albertosaurus; Coral Acervularia luxurans; Reptile tooth Ichthyosaurus; Footprint Cheirotherium; Shrimp Hefriga serrata; Trilobite Calymene blumenbachii.
In a tray with clear plastic lid, outer cardboard box & explanatory sheet.